04/28/2023
ENGI-MONOGATARI Officially begins activities starting today, 4/28/2023!
YouTube videos (self-introduction videos), Webtoon Episode 1, Debut Song, and Music Video are all available now!
4/28/2023 (Fri)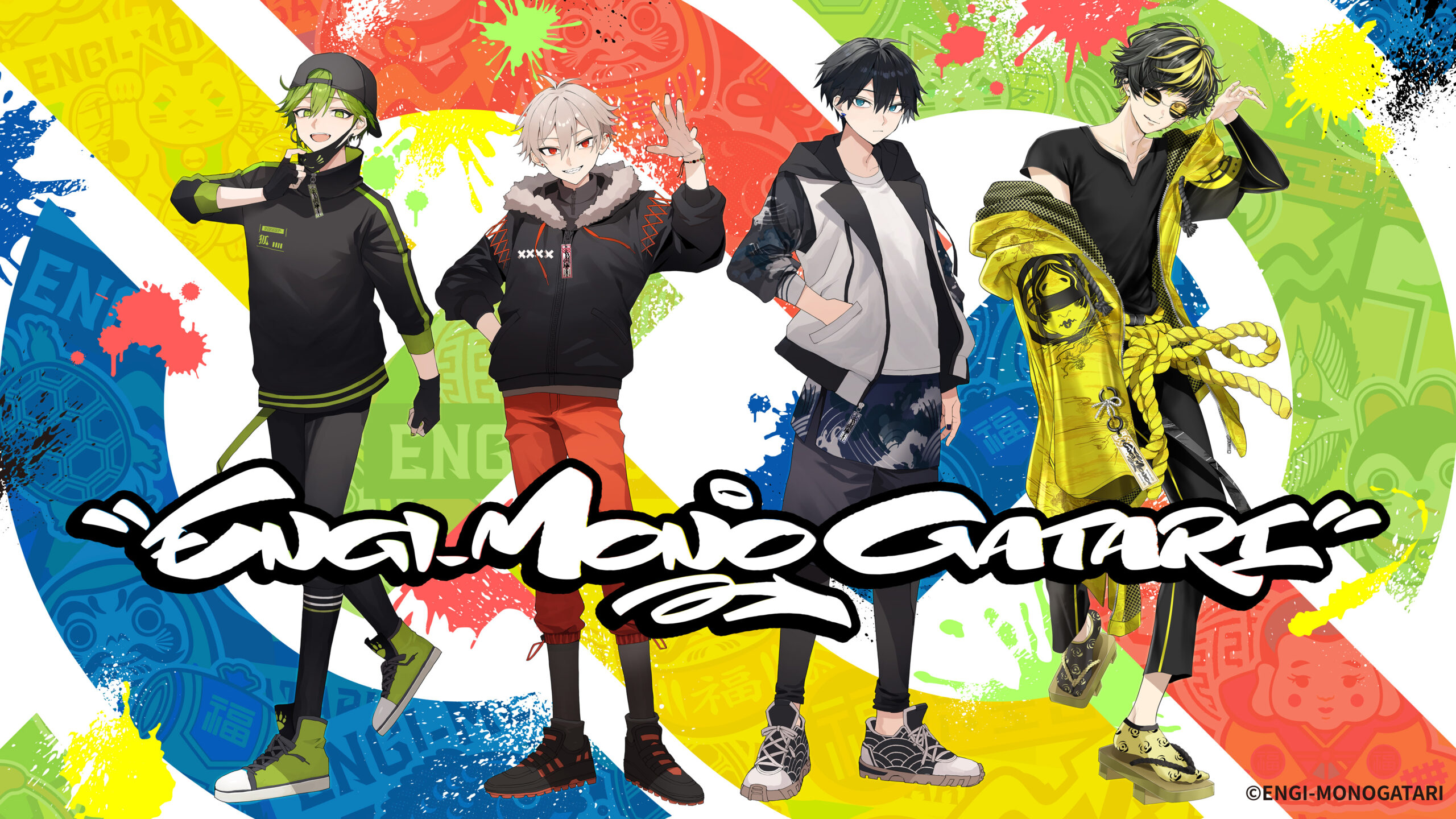 This is a story of en (fate) and engi (luck and performance) that transcends time.
Kizuna AI Inc., the creator of the world's first virtual YouTuber "Kizuna AI" has teamed up with Animax Broadcast Japan Inc. to produce a new project titled "ENGI-MONOGATARI" that commenced on 4/24/2023 (Fri)!
This new IP project will develop a media mix based on YouTube and WEBTOON.

Introduction
-Modern Day Japan-
The rapid growth of negative human emotions has caused sealed-up disasters to overflow once again, and evil spirits came out to the world to punish the human race
At this rate, the world will…
In order to prevent the worst from happening, the shadow security system was activated, and those with the power to exorcise evil spirits, "Engimono," were chosen to fight.
However, it was long ago when "Engimonos" was active.
The former "engimonos," who made their living by "clearing people's minds with their art" and "exorcising evil spirits with the power of lucky charms," changed their name to "ENGI-MONO" and hid their very existence, disappearing from the public eye since the Meiji era.
A cat-shaped virtual character, "Neco," was summoned as an independent-thinking AI in order to make contact with Bishamon Tenka, the only heir of the family that has continued to pass on the "ENGI-MONO" existence.
And now, the four people who have inherited the power of "ENGI-MONO" are here to save the world from disaster.
Tenka Bishamon, Kojyurou Fukuroku, Shizuki Daikokuten, and Amon Ebisu.
While each of them embraces their feelings in their heart, they search for companions with the same "Engimono" power as an "entertainer" who clears people's minds and "Engimono" to exorcise evil spirits.
Their story will now unfold
The original story will unfold on WEBTOON.
"ENGI-MONO" will deliver a battle story of the exorcism of evil spirits as a WEBTOON.
The first one-shot will be released on ENGI-MONOGATARI's Official Twitter and Official Website on 4/28 (Fri).
*The continuation will be released monthly on ENGI-MONOGATARI's official Twitter and official website.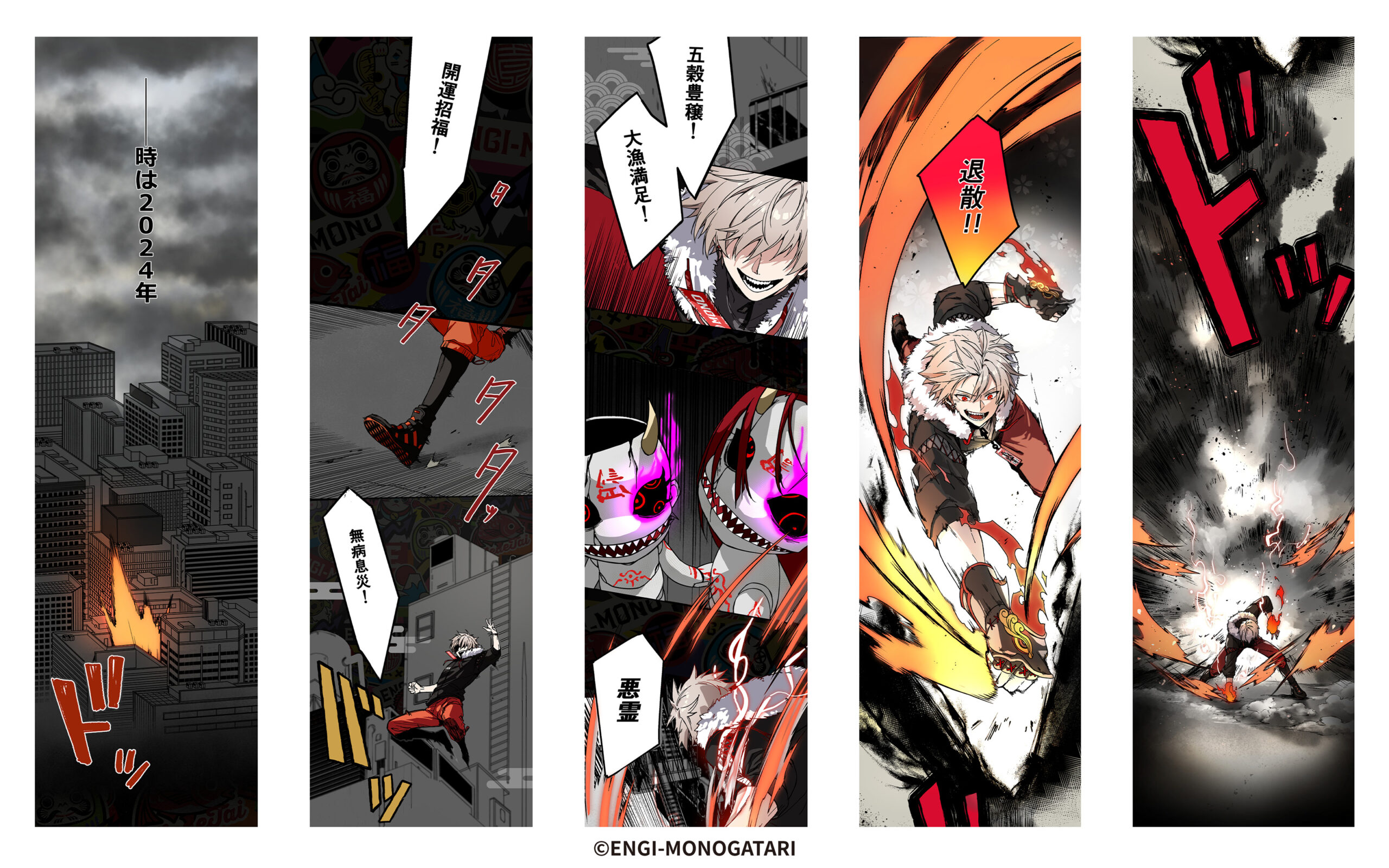 Title: ENGI-MONOGATARI
Story: ENGI-MONOGATARI Project
Original Draft Story: Daikichi Yaoki(Kizuna AI Inc.)
Character Design: Sakusya2, Hotake Fujimaru
WEBTOON Production: C-Route Inc.
Layout: Atsushi
Character Drawing: Sakutaro
Background: Naku Naku
Coloring: Ayano Rokushi
Scenario: Izumi Mini
ENGI-MONOGATARI Launches YouTube Channel!
The four members started releasing videos starting April 28, 2023, to clear the minds of everyone in the world. The official YouTube channel updates new videos every Friday, focusing on various projects and musical activities!
◆Videos released by 5/12
The first self-introduction video of the four members was released on April 28 (Friday).
Based on each character's personal information, such as favorite foods, things they would like to do, etc., the content gave a glimpse into each person's personality.
【Self-Introduction】#01 I'm Amon Ebisu! Nice to Meet You!【Rookie Debut】
【Self-Introduction】 #01 Hello. I'm Shizuki Daikokuten.【Rookie Debut】
【Self-Introduction】#01 Kon Kon Konnichiwa! I'm Tenka Bishamon!【Rookie Debut】
【Self-Introduction】Hi! I'm Kojyurou Fukuroku!【Rookie Debut】
Digital Release of Opening Track "Ichifuji, Nitaka, SUNRISE!"
Their first digital single, "Ichifuji, Nitaka, SUNRISE!", the opening song of "ENGI-MONOGATARI," was released today, Friday, April 28.
Their first single is a powerful and aggressive pop tune accentuated by a Japanese instrumental arrangement.
【Debut Song】 Ichifuji, Nitaka, SUNRISE!【Music Video】
Video Production: Nonolu
Choreography: Keito Okuyama (Solid Cube)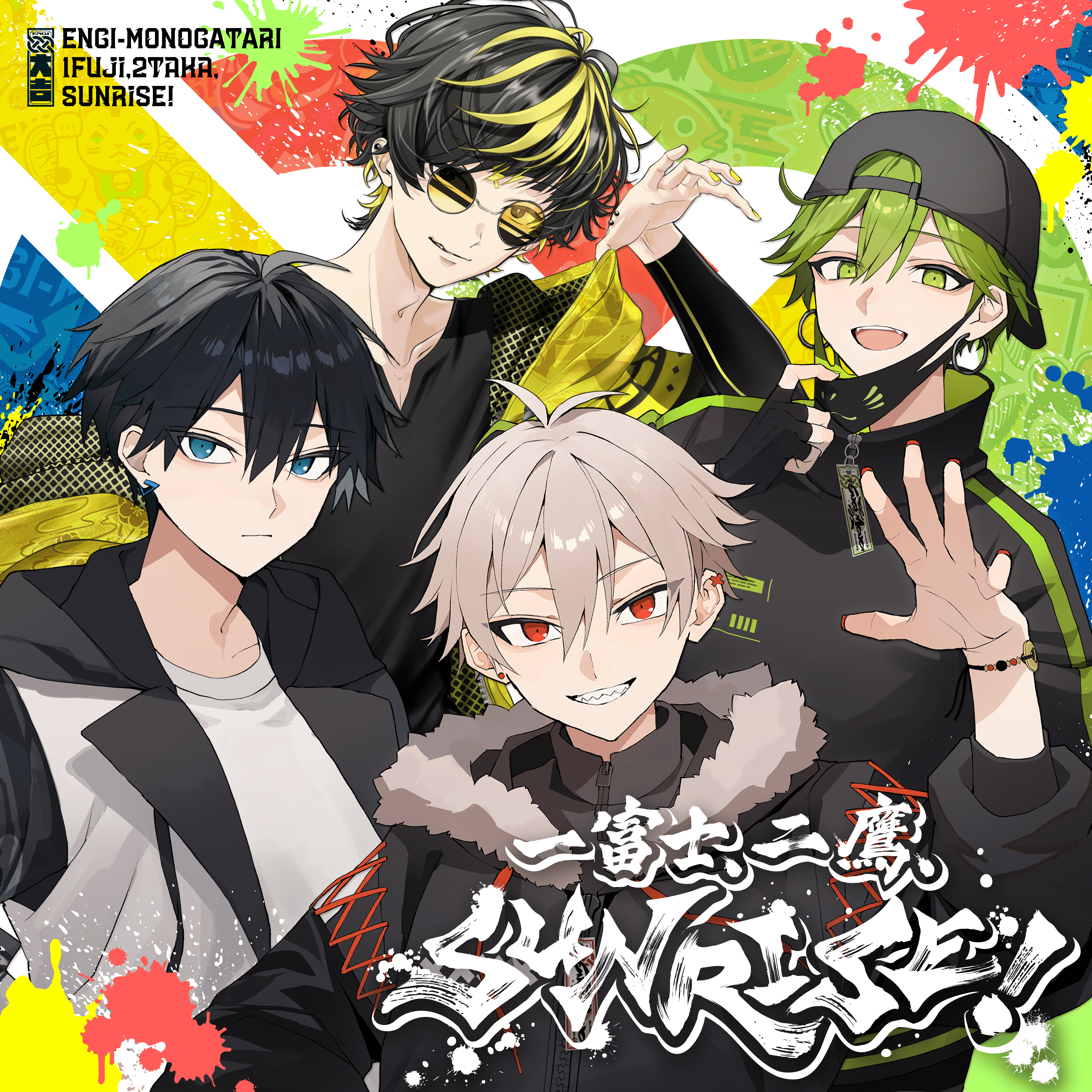 【Release Information】
Title: "Ichifuji, Nitaka, SUNRISE!"
Artist: ENGI-MONOGATARI
Lyrics and Music: Kizuna AI Inc.
4/28/2023 (Fri) Digital Release
■Music Distribution Platforms
The official website is now open!
Updated introduction and character profiles.
Future plans will be announced on the official website, official Twitter, etc.
Character Information
Ebisu Amon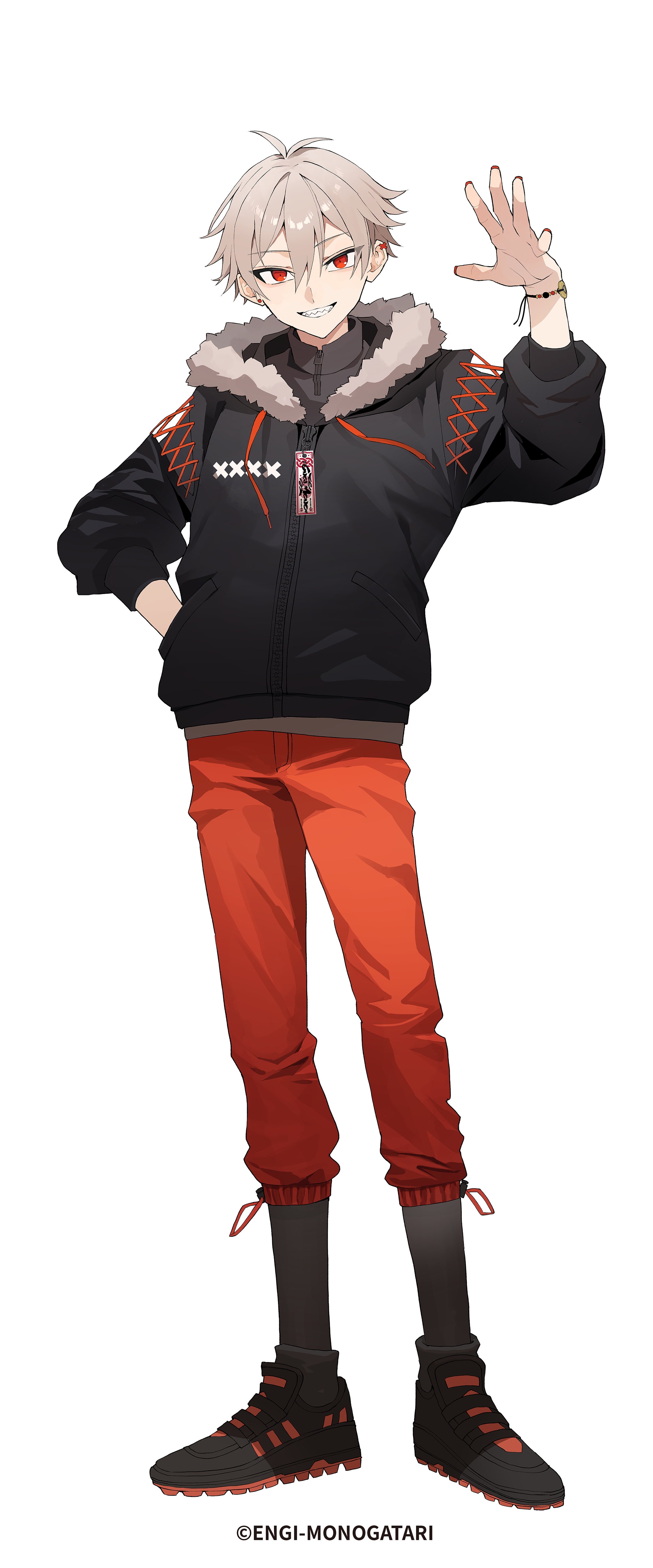 <Profile>
Birthday: 10/20
Age: 19
Blood Type: O
CV: Keito Okuyama
Illustrator: Sakusya2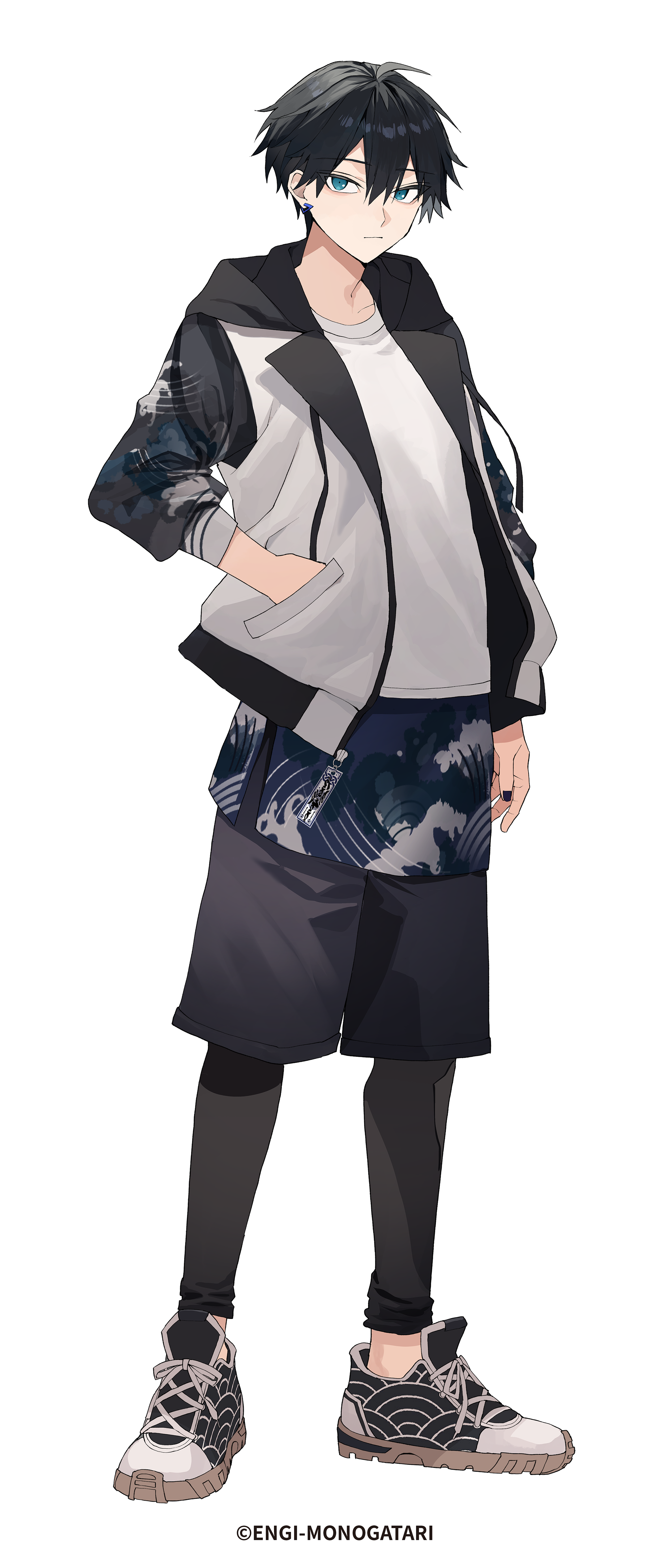 <Profile>
Birthday:  9/21
Age: 19
Blood Type: A
CV: Tomoya Yamamoto
Illustrator: Sakusya2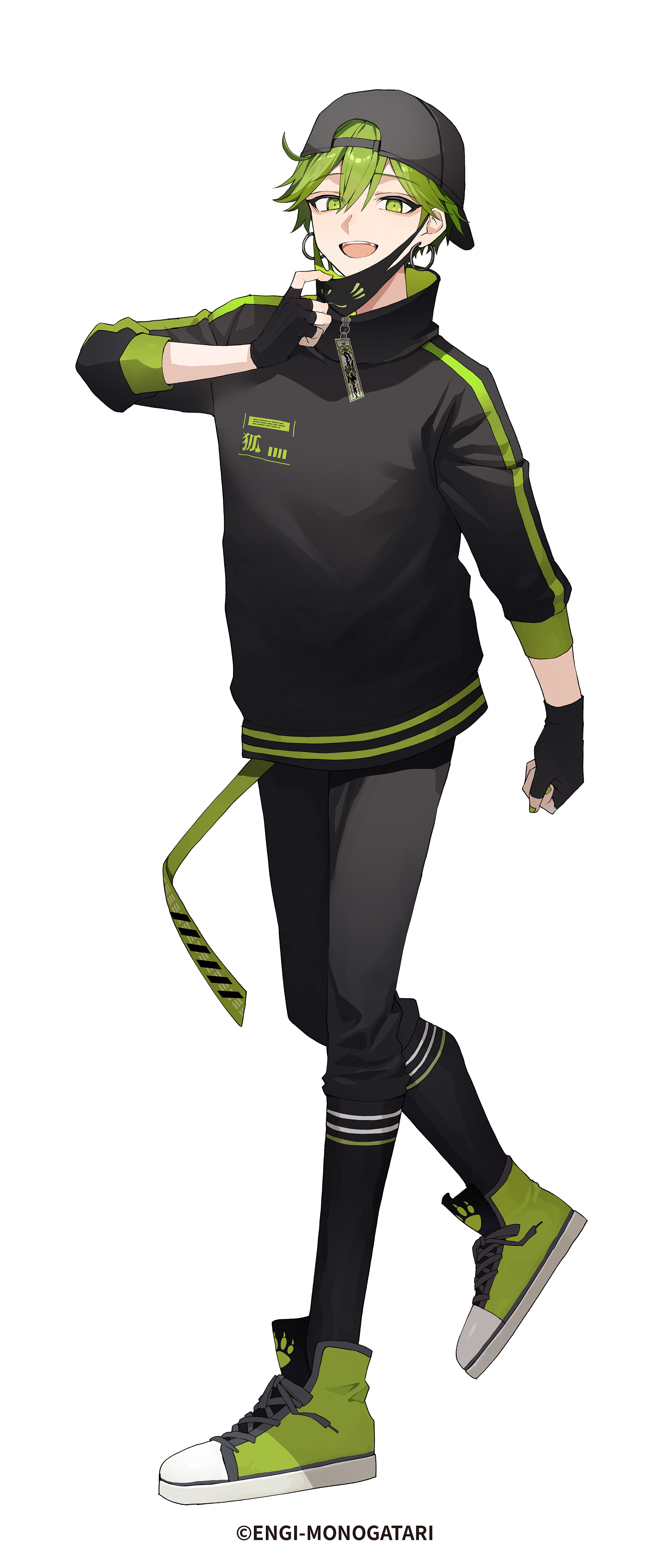 <Profile>
Birthday: 4/10
Age: 21
Blood Type: AB
CV: Kajita Daishi
Illustrator: Sakusya2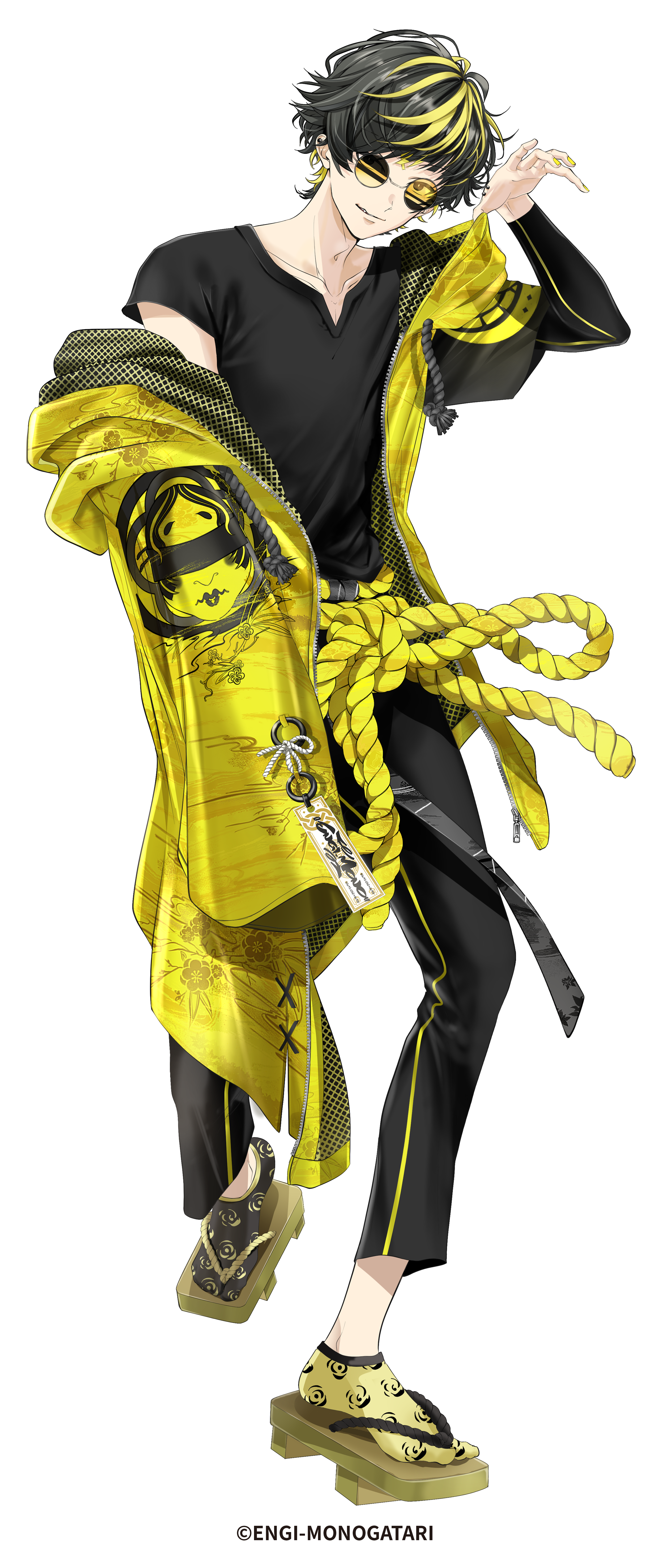 <Profile>
Birthday: 11/29  Day of good luck
Age: 24
Blood Type: B
CV: Takuro Sawada
Illustrator: Hotake Fujimaru
【ENGI-MONOGATARI】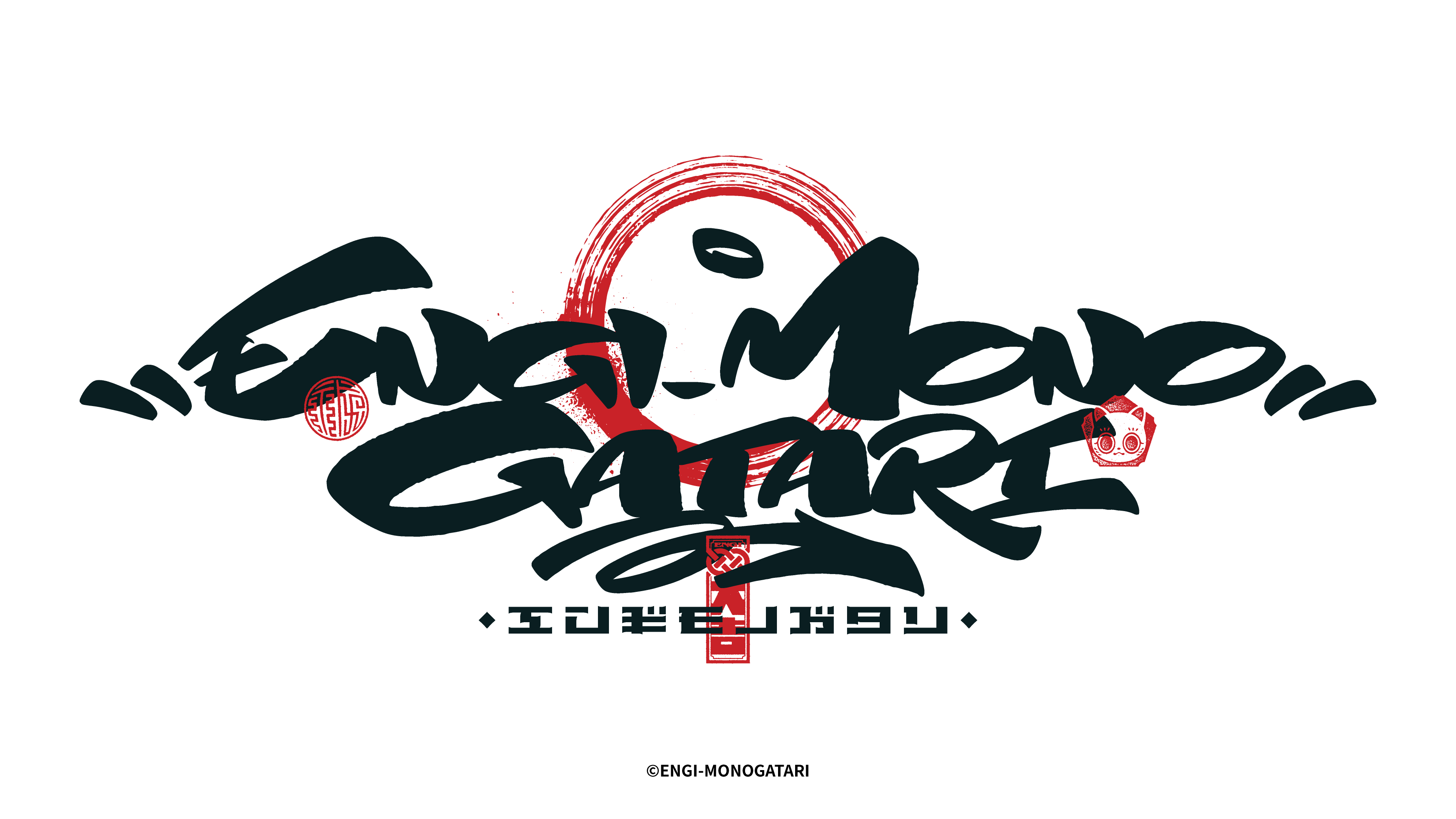 Official Hashtags
●Official Tags
#ENGIMONOGATARI #エンギモノガタリ #ENGIMONO

●Fan Art
#ShichifukuGoods
#ShichifukuGallery

●Goods
#七福笑店
ShichifukuGoods
Character Design:
Sakusya2
https://twitter.com/sakusya2honda
Hotake Fujimaru
https://twitter.com/hotake6379
Logo Design:
Yuta ONE
https://twitter.com/yuta_ptv
Character Mark:
Minato Design
https://twitter.com/minato_design_s
Production:
Kizuna AI Inc.
Animax Broadcast Japan
◆Copyright Notation (C)ENGI-MONOGATARI